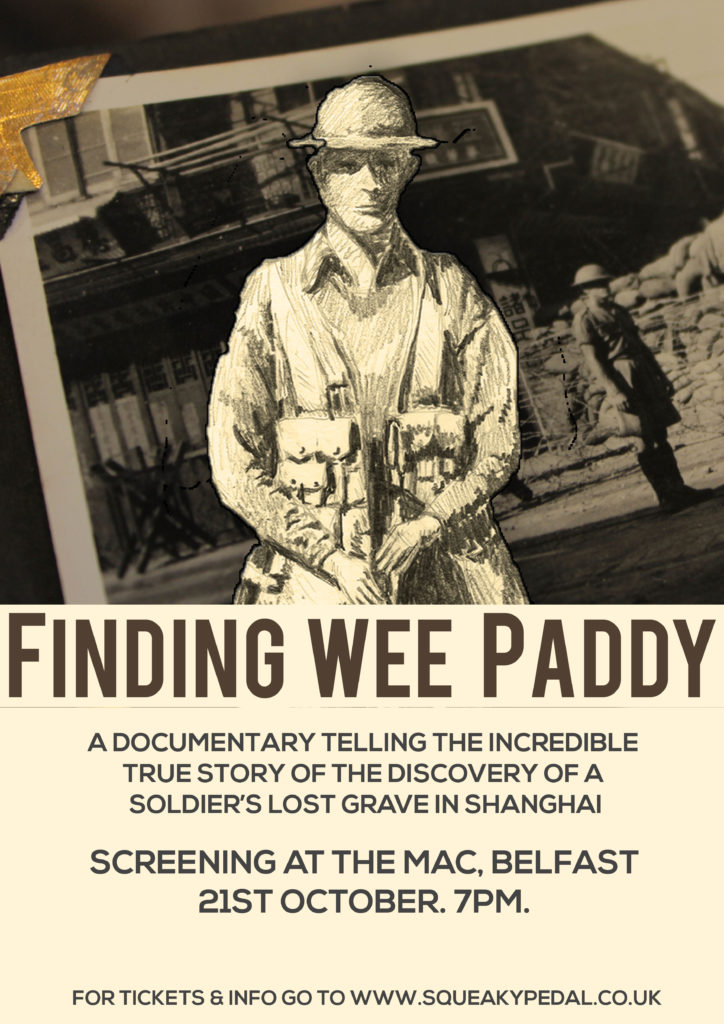 British soldier Patrick McGowan was just 25 when he was killed by Japanese bullets during the battle of Shanghai in the fall of 1937. McGowan, of the Royal Ulster Rifles, was posted on the outskirts of the city's International Settlement, primarily charged with preventing illegal entry into the area and ensuring that the battle did not spill over into the foreign area.
However, he and his fellow soldiers went far beyond and above the call of duty, watching desperate and helpless Chinese civilians attempting to escape the carnage going on all around the International Settlement. Time and again, they ventured out into no-man's-land, rescuing people caught in the fighting.
McGowan, "Paddy" among friends, was killed on October 24, when he was caught in the open by a strafing Japanese airplane. He was buried a few days later in a massive ceremony attended by all walks of life, Chinese and foreign. Where exactly he was laid to rest remained a mystery, obscured by the many political storms that hit China in the ensuing decades.
One family member, his niece Sara Moran, was determined to find his grave, and her perseverance paid off. After writing to then-Prime Minister David Cameron, she obtained the help of consular officials in Shanghai, and finally she was able to locate her uncle's final resting place.
We have previously introduced McGowan's story on this
blog
, and now he is also the subject of an entire documentary, Finding Wee Paddy. The first screening will take place at the Metropolitan Art Center in Belfast on October 21, 1937, almost 80 years to the day of his tragic death. Watch the trailer here:
Finding Wee Paddy – Trailer (2017) from Squeaky Pedal on Vimeo.
The documentary is the work of Jason Davidson and Peter Roch of production company Squeaky Pedal, whose work can be followed on the company's
website
as well as on
Facebook
and
Twitter
. We asked Davidson about the sad and fascinating story of Wee Paddy:
– How did you come across this topic?
I first heard about the story of Sara and her fight to locate the grave of her uncle from a BBC news article back in 2013. Despite having completed a degree and masters in history the Sino-Japanese War was unfortunately a subject that I was unfamiliar with. As a result the story of Paddy's service in Shanghai and his grave's subsequent disappearance fascinated me, as did Sara's hard fought campaign to locate it. Over the coming months everyone I spoke to was not only amazed by the story but also admitted to not knowing anything about the fighting in Shanghai in 1937. I therefore became determined to tell Sara and Paddy's story.
– Why do you think the story should be told?
Whilst much emphasis is placed on the grand tactics and key personalities in history, the most compelling stories are usually found within the people on the front line and this is exactly the experience that we have found with Paddy. His death not only shines a light on a seemingly forgotten part of history in Northern Ireland but most importantly shows the forgotten link between two countries. Although Paddy could have been seen at the time as a representation of the oppression of the British Empire, the fact that he gave his life attempting to save civilians, both western and Chinese, demonstrates the humanity felt by ordinary people caught in extraordinary events. Whilst his bravery was honoured at the time the impact on Paddy's family was profound, so strong in fact that Sara became determined to find out what had happened to him in spite of setbacks and the passage of time.
 -Is there a particular vignette or aspect of Paddy's story that you would like to mention?
Speaking to the family and to Sara uncovered many tragic aspects of Paddy's story. His mother died when he was very young and his father moved out of the family home soon afterward. As a consequence Paddy and his brother were raised by various aunts, uncles and family friends. At the first opportunity Paddy's brother joined the army to escape his situation and to find friends and adventure at a time of great hardship in Britain due to the Wall Street Crash. Paddy was very close to his brother and wanting to follow in his footsteps he too joined the same regiment. Whilst he found the camaraderie and adventure he was seeking Paddy was actually due to leave the army at the end of his posting in Shanghai and be best man at his brother's wedding. His death deeply affected his brother, and whilst Sara's mother kept Paddy's memory alive her father found it difficult to talk about him.
– Stories of westerners in the Far East often overlook the local population. Do the Chinese play a role in your documentary?
The documentary is primarily focusing on Paddy and Sara's story, however it would be impossible not to mention the situation in Shanghai at the time and the bravery of the Chinese people. Time and again in our research we found instances of British soldiers from Paddy's regiment, the Royal Ulster Rifles, risking their lives against orders to rescue Chinese civilians. It appears obvious to me that the suffering and resolute bravery of the Chinese people had a profound effect on Paddy. So much so that he chose to risk his life to save civilians outside his guard post that were under attack from a Japanese aircraft when he could so easily have stayed within the safety of his sandbagged position. An act that led to his death. The huge turnout of Chinese civilians at his funeral is testament to their solidarity with Paddy's act of bravery.
– It sounds like a very sad story. Is there anything uplifting about it?
Having received a number of setbacks when Sara finally wrote to David Cameron it seemed highly unlikely to everyone involved that she would locate the graves. When we interviewed Mark Logan who was the communications officer at the consulate in Shanghai he admitted that no one held out much hope that his grave could have survived. But despite all the odds it was able to be located and a ceremony take place which included members of the crew of HMS Daring which was visiting Shanghai at the time. One of the most fantastic things I have heard anyone mention about the documentary is that the story could give hope and encouragement to others searching for the graves of lost relatives.
– What for you personally was the biggest surprise while making the documentary?
Mainly that our research has shown that the original BBC news story about the rediscovery of Paddy's grave is almost entirely inaccurate! It also missed out many incredible stories and very moving aspects of Paddy's life and what actually happened to his grave in the intervening years. The BBC story said that it had been smashed up and forgotten, however our research has shown that this wasn't the case. Whilst it was moved around to various locations it managed to survive these travels and it was only because of these moves that it was thought the grave had been lost.
– The war in China, and the role of the western powers, is not something we hear about very often. Why do you think that is?
In Britain World War Two is so inextricably linked with the rise of Hitler and the fighting that occurred in Europe. This means that the Far East has seemingly been forgotten. The topic is very seldom talked about in the media which is a terrible shame. The consequence of this however this that, with a story such as Paddy's, people become fascinated by it because they simply know nothing about the subject or what was going on at that time. Hopefully the documentary will help to bring this part of history to a wider audience.
– Who is your main audience?
We hope the documentary is accessible to anyone! Essentially the story is one of suffering, bravery, determination and hope. These values are relatable to anyone, anywhere in the world.