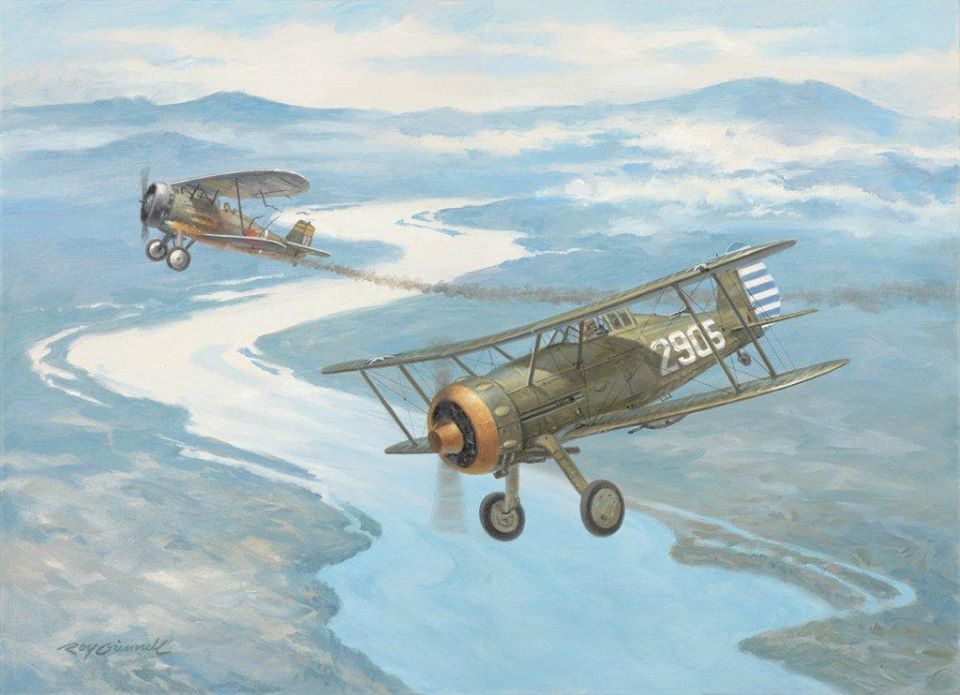 For Roy Grinnell, one of the world's leading aviation artists, the air war over China in the 1930s and 1940s has been a favorite subject for years. We're proud to show a small selection of his mastery, depictung duels between Chinese and Japanese planes in the dramatic years when the fate of the Middle Kingdom was hanging in the balance. For many other examples from a century of flight, visit Grinnell's website here or his Facebook page here.
The artwork on top shows a celebrated episode in the life of Sun-Shui  Wong, aka "Buffalo" Wong, born in Los Angeles in 1914. He spoke  Cantonese, loved flying and went to China at the beginning of the China-Japanese  War. He was given the nickname of "Buffalo" because of being short and stocky.  On Feb. 25, 1938. Buffalo became an Ace by shooting down a Japanese Nakajima  A4N-1 over Guangzhou, China. Wong flew his imported Gloster Gladiator #2905 for  the 17th Squadron of the 5th Group of the Chinese Air Force. His final tally  before being shot down was 8.5 victories. Wong was suffering from wounds  received in combat and died in a hospital two days  later.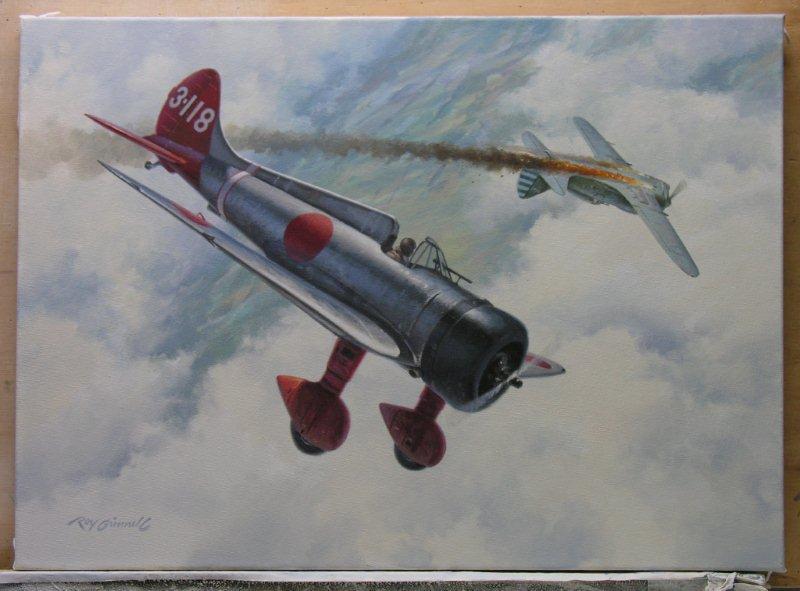 The painting above focuses on a Japanese ace, Saburo Sakai who entered combat in China in 1938 flying a Mitsubishi A5M4 "Claude" fighter.  The year 1938 was a tough one for pilots like Saburo, as the Russian-made 1-16s provided by Moscow to China were faster and more maneuverable than the "Claude", but the episode of the painting showed victories were still possible. Saburo's Claude was behind the Chinese aircraft. The Chinese pilot rolled, looped and spiraled  trying to evade the bullets of the Claude. At 150 yards and firing, black oily  smoke gushed from the nose and the 1-16 plunged towards earth. This was Saburo's  first and only victory in China. He would have many more later on in the Pacific War.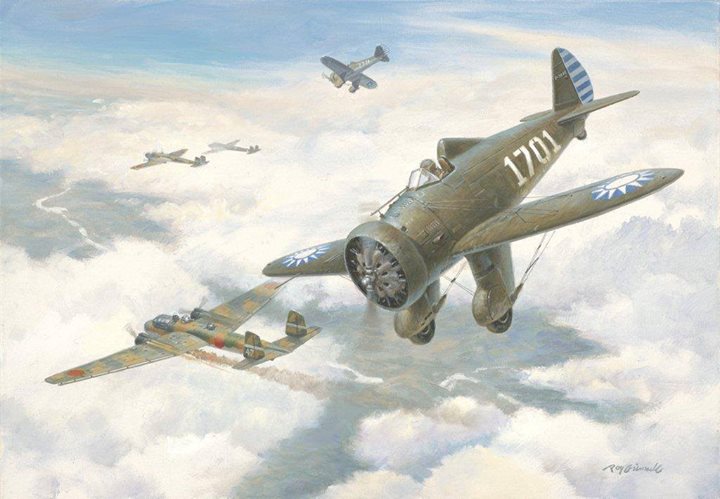 Pan-Yang  Wong (John Wong), depicted in battle in the painting above and the conceptual study below, was born in Seattle, Washington, but his father was from  Jungshan county, Guangdong (Kwantung) province, China. John obtained a private  pilot's license at the Portland Flying School, Oregon, and he went to China in  1932 to join the Guangdong (Cantonese) Provincial Air Force. John shot down 1.5  Japanese bombers over Nanking on August 15, 1937. Wong flew a Boeing 248, No.  1701 in his first four victories, and later a Gloster Gladiator in 1938. On  August 15, 20 Japanese bombers G3M's attacked Nanking. Pan-Yang leading a group  of Boeing P-26 "Peashooters" from the 13th PS attacked a flight of 6 Mitsubishi  G3M Bombers and the group shot down all the bombers without any  losses.