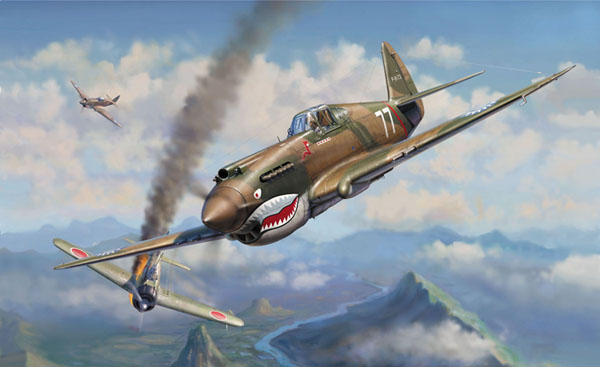 Jim Laurier, a native of New England, has created some of the most amazing aviation art in existence, and luckily for those with an interest in the war in China, he has also turned his attention to American aviators' exploits in that theatre. With Laurier's kind permission, we bring examples of his art. (For many more paintings from a variety of campaigns, go to this site.) Above, a Curtiss P-40 of the famous "Flying Tigers" in the moment of victory. The landscape below is characteristically Chinese.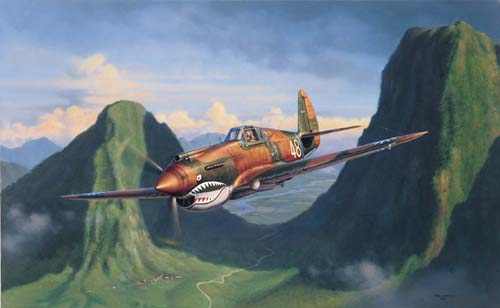 This painting, "Tiger Pass," shows David Lee "Tex" Hill flying his Curtiss P-40 on his way to his Guilin airstrip in southern China. Hill commanded the 2nd Squadron of the "Flying Tigers," or, more formally, the American Volunteer Group (AVG). The squadron was nicknamed the "Panda Bears", and most of its aircraft carried a black-and-white panda cartoon on the fuselage, created by pilot Bert Christman, who had been an artist prior to the war.
This painting, entitled "Tiger Sharks of China", also shows David Lee "Tex" Hill. The time is after US entry into the war, when some AVG pilots continued the war against Japan, now with the newly formed 23rd Fighter Group.  Hill is standing in front of his P-51 Mustang along with some of his ground crew at the Guilin airfield. Anyone who has been to Guilin will immediately recognize the mountains.