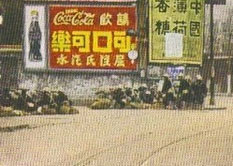 The photos on this page all have the same basic motif: Japanese soldiers engaged in battle in front of a giant Coca-Cola ad. They are from the same spot in Shanghai, North Sichuan Road. But they are from two different battles – the 1932 and 1937 Sino-Japanese struggles for the city, respectively. We can say that for sure because the advertisement to the right of the Coca-Cola billboard is different in the two photos at the top compared with the two photos at the bottom.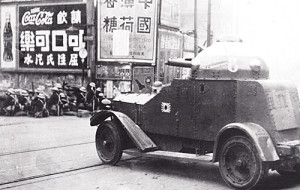 Which is which? The two at the top are almost certainly from the 1932 battle. One major indication is the fact that the soldiers in the images, members of the Special Naval Landing Force, are wearing dark blue wool uniforms, the winter attire used by this particular service, which fits with the first battle for Shanghai happening in January and February of 1932. The soldiers in the two bottom photos wear the thinner, olive-green summer uniforms, which suggests the photos were taken in late summer 1937, when fighting over the North Sichuan Road area was at its most intense.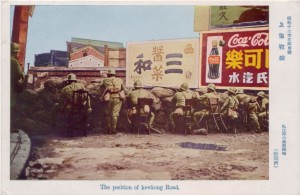 How come that we have two sets of photos, depicting almost the exact same scene, but at a distance in time of more than five years? Two reasons. First, North Sichuan Road was of immense strategic importance both in 1932 and in 1937. It was the main line of communication and transportation between the docks along the Huangpu River and the overwhelmingly Japanese areas in the Hongkou district in the north of Shanghai, also known as "Little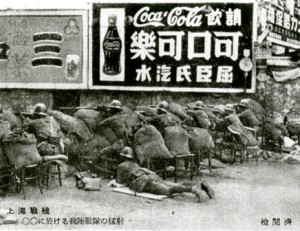 Tokyo," home to a large number of Japanese companies, their employees and dependents.
The second reason: Press photographers of course have an eye for striking images. And the sight of Japanese soldiers battling it out in front of an iconic western logo was just as startling in 1937 as it had been in 1932.