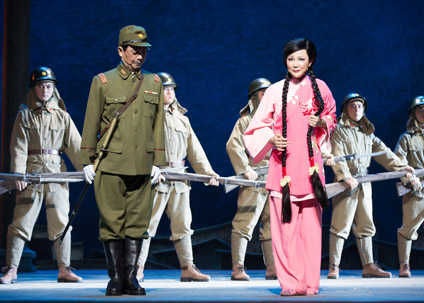 In China, the Second Sino-Japanese War has provided rich source material for works of fiction ever since 1945. The most obvious example of this is the plethora of soap operas set during the war years, mixing unlikely romance with over-the-top battle scene acrobatics.
However, the war has also inspired works in the more traditional art forms. One example is the traditional opera Half Moon, which will soon premiere in Shanghai and tells a tragic story from a part of China occupied by Japan during the war.
"A Japanese colonel overhears a beautiful folk song, which reminds him of his dead wife," the Shanghai Daily reports. "He asks the Chinese girl Lotus to sing it, but he is turned down since her song is only for her lover. The colonel threatens all the lives in the village to try to force the girl to sing."
The opera belongs to the Huangmei subtype, which has a history of several hundred years, originating in China's rich tradition for folk songs. It is similar to the better-known Beijing Opera category, but also has distinct features of its own. For instance, it lack the rhythms of Beijing Opera. Here's an example:
The operas may seem highly formulaic and removed from everyday experience, but they are nevertheless capable of highlighting timeless issues, such as the dilemmas faced by peoples in times of war. 
"The play tries to show the power and influence of culture even in wartime," playwright Yu Qingfeng told the paper. "It also unveils the cruelty of war and the complexity of human nature in exceptional circumstances."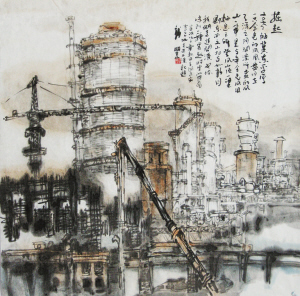 Yu said he was inspired to write the play after a visit to the eastern province of Anhui, one of the areas where the Huangmei opera is still alive and kicking.
It's a well-known practice among Chinese artists to tackle modern topics by means of the tools handed down to them by their predecessors. For example, industrial landscapes, such as the example to the right, have often been the subjects of traditional ink paintings, originally developed to depict sheer unspoiled nature.